Kermarec,
a family story
At the beginning…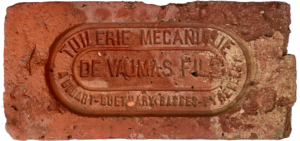 Antoine and Etienne de Vaumas, two brothers, came from a 19th century family of entrepreneurs who produced bricks in their lime kilns in southwestern France. From this, they undoubtedly acquired a taste for business and for construction.
In 2001, Antoine founded Kermarec with the idea of offering renovation services with a different approach. From the outset, his vision was set on high quality production and planning.
Kermarec's Breton-sounding name was chosen when they carried out their first project in the Côtes d´Armor. The salamander was chosen to reflect the elegant and friendly image of the company.
… development…
From the very start, employees were hired to help consolidate the company's technical expertise, and above all, develop a real entrepreneurial spirit and a strong sense of belonging.
Victor, a project manager who joined Kermarec at its inception, brought his technical expertise to work with this pair of passionate entrepreneur brothers.
In 2011, Etienne was taken on board to pursue the development of Kermarec and initiate new projects.
In 2012, Kermarec attracted new expertise by initially acquiring a carpentry workshop in the Paris region. The new profession of custom woodworking, geared to become the perfect complement to general renovation, finally fulfilled the long-held dream of having the worth to carry out its own entrepreneurship.
... growth…
In 2016, an encounter took place. Antoine and Etienne took over a large carpentry workshop in Portugal, enabling them to meet a growing demand for excellence. This major step marked their desire to offer their customers their two areas of expertise in Renovation and Woodworking.
Today, the two brothers, along with Victor, have invested in the development of their Renovation and Custom Woodworking business with the solid support of a remarkable team of 45 employees. They have consolidated their real expertise to carry out your high-quality projects.
Our spirit is going strong. Kermarec wants to share it with you.
Experts in General Renovation and Custom Woodworking
Kermarec carries out all types of basic and complex renovation and custom woodworking projects for private individuals, architects, and institutions.
In our two areas of expertise, Kermarec, with its team of dedicated professionals, provides true quality know-how and offers planning solutions.
Kermarec not only lends its technical support, but also offers full services to its clients in terms of advice, planning, quality of production, budget management, and scheduling.
---
Our professionals in Paris and Porto are ready to serve you 
Kermarec's solid team of salaried professionals – 20 staff in France and 25 in Portugal – plus its large network of partners, have all been mobilized to assure the success of your projects.